Proceedings published:
https://eudl.eu/proceedings/intetain/2017
NEWS: We are happy to inform you that INTETAIN 2017 proceedings have been published.
See the links below:
https://eudl.eu/proceedings/INTETAIN/2017
https://www.springer.com/gp/book/9783319730615
Keynotes are announced and we are happy to welcome them at the INTETAIN 2017 edition
Digital technologies are woven deep into the fabric our everyday existence. Play and entertainment serve a crucial role in determining how such technologies evolve, having served both as catalyst for the development of novel devices and interaction paradigms, as well as proposing novel uses for technology.
The 9th International Conference on Intelligent Technologies for Interactive Entertainment (INTETAIN 2017) celebrates the future of Interactive Entertainment by inviting researchers to submit contributions around developments and insights in art, design, science, and engineering regarding novel entertainment-focused devices, paradigms, reconceptualisations, and reconfigurations of entertainment experiences.
INTETAIN is a small gathering of curious minds, focused on supporting a community of practice. Instead of crowds of people who may miss the chance to connect in the face of overly tight timetabling, we prefer to have a select group of people conversing about a select group of papers.
Topics of interest for INTETAIN include, but are not limited to:
- Entertainment AI: procedural content generation, agents, and machine learning
- Game and character design: tools, theories, and case studies
- Gamification and serious games: principles and applications
- Human factors: emotion, immersion, skill, and style
- Non-human agencies: media, music, robot, and animal
- Intelligent environments: ambient, virtual, and mixed reality
- Interactive media: TV, social media, art, and storytelling
- Invasion of entertainment: locative media, mobile guides, and companions
- Novel interfaces and sensors: affective, multimodal, and bodily interactions

Follow us on Twitter >>>
#INTETAIN2017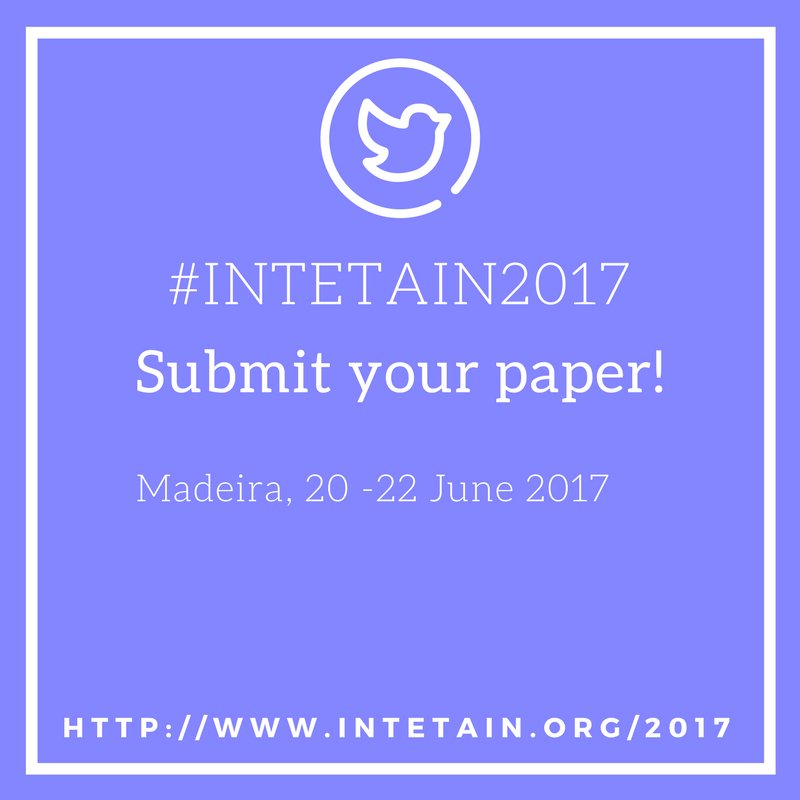 Highlights
We are happy to announce the Keynote Speakers of Intetain 2017:
Professor Henrik Hautop Lund, Center for Playware, Technical University of Denmark
Prof. Clara Mancini, Open University UK
Prof. Regina.Bernhaupt, IRIT, France